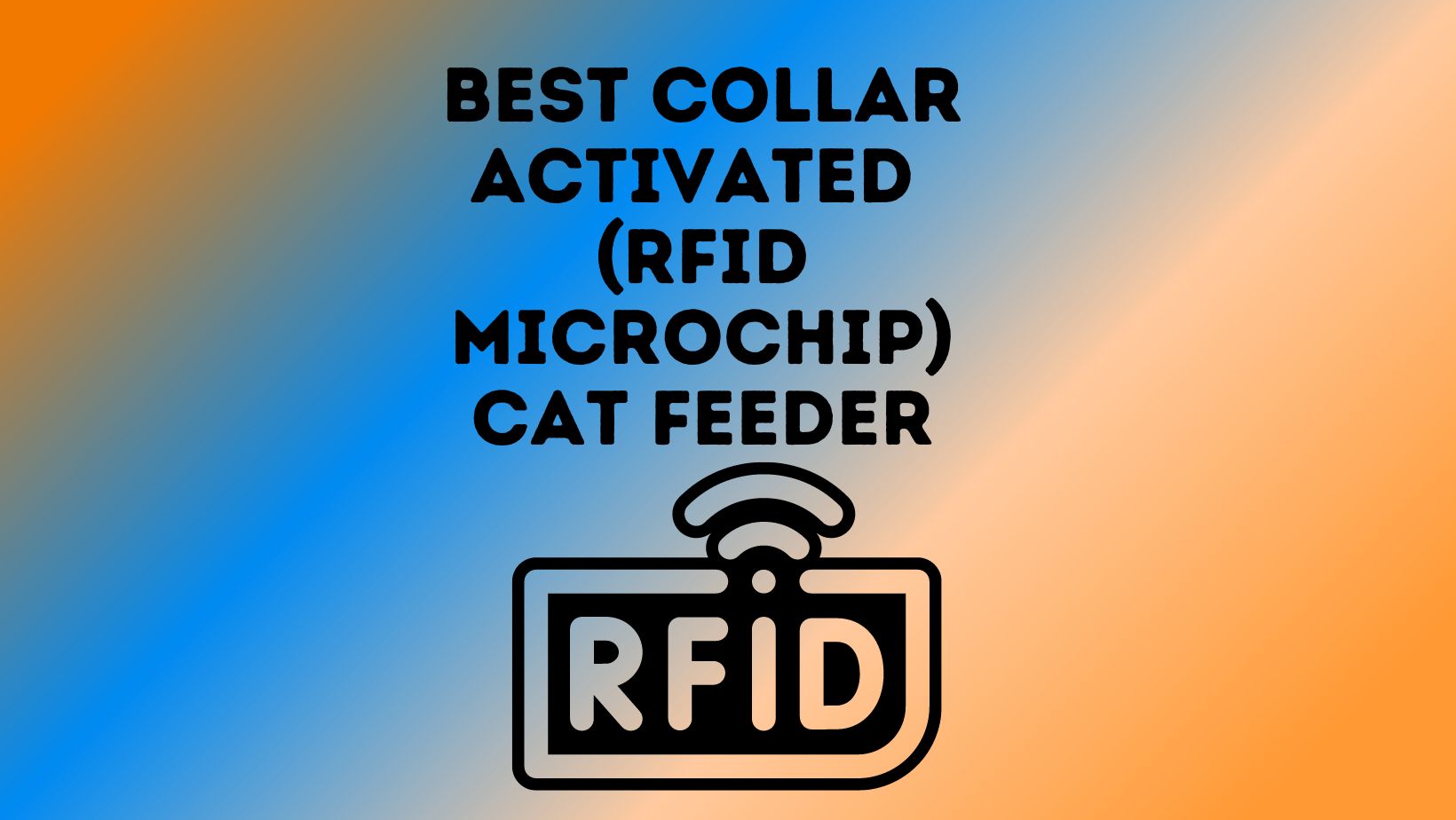 If you're a cat owner, then you know that feeding multiple cats can be more difficult than it seems. There is always that one cat that steals food from others and eats too much. Then that can get too fat while other cats are left hungry and sad. It is a lose-lose situation. Things get even more complicated if you have a cat with a medical condition that needs to take medications with the food. It can be hard to ensure that the right cat gets the medicated food, especially if you're not always there to supervise the feeding.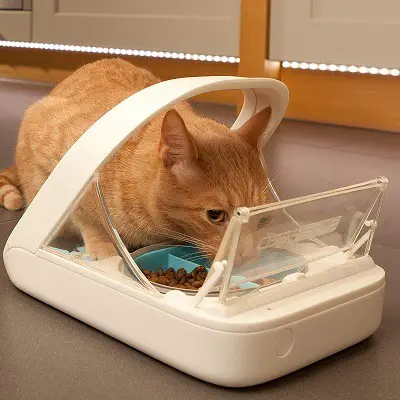 Thankfully, technology has an answer to everything, including pet feeding problems. Different feeders on the market can help you solve these problems. Selective pet feeders, for example, are specifically designed to prevent these troublesome situations from happening.
They often have a lid that will only open for the selected pet, usually by recognizing its unique collar tag or microchip. Apart from solving the problem of pets stealing food from one another, collar-activated cat feeder models offer several benefits.
Firstly, the lid will only open when a registered pet comes to eat, which means that the food will have minimal exposure to air, therefore lasting longer. Secondly, they're great if you have a small child still putting everything in his or her mouth, including food from the pet bowl.
Best Selective RFID Cat Feeder Models
There are many different models on the market, and it can be hard to make the right choice. To help you find the feeder that will be perfect for you and your cats, I have put together this list of the top 5 selective feeders.
SureFeed Microchip Pet Feeder – Top Choice
The first on my list is this lovely microchip cat feeder by SureFeed. It works by recognizing your cat's microchip or RFID collar tag, so it will only open for a cat with a registered microchip or tag, and close when that cat has finished eating.
One pet feeder can store as much as 32 pets, which is impressive. So, for example, you can register all of your cats to one feeder and your dogs to another feeder; or any other combination that fits your unique situation.
It's great that this feeder can be used with both wet and dry food. That's because the food gets minimum air exposure, so the wet food doesn't dry out and stays fresh longer, and the dry food doesn't become stale. It also guarantees that the food won't attract ants and other pests.
This feeder even comes with a split bowl designed to be used with wet and dry food simultaneously, ensuring that your cat will get a balanced diet. Just make sure to change the wet food daily, and wash the bowl regularly. You'll need to wash the bowls by hand, as they're not dishwasher-safe. Press the open/close button on the feeder to open it when you need to remove the bowl or replace the food.
This product is quite technologically advanced, and it has several useful quality-of-life features. For example, you can manually increase or decrease the time the lid closes once a cat has finished eating.
It will take some time to learn how to get the most out of this product, especially if you're not that comfortable with modern technology. The microchip cat feeder uses 4 C cell batteries, which are not included. If you wish, you can also separately purchase colorful bowls and mats.
Pros:
It can be used with dry and wet food.
It's both an RFID cat feeder and a microchip feeder.
Cons:
It can be a bit complicated to use
WOPET 6L Automatic Cat Feeder, Wi-Fi Enabled Smart
Here's another selective feeder with a unique collar tag, which will open only for the cat wearing the tag. Only one tag comes with each feeder.
So, if you want multiple cats to use this product, you will have to buy various Wonder Bowls. You can program one feeder for multiple cats to eat out of it, but you'll still need to buy separate bowls to get the unique collar tag, which is quite unfortunate and makes it less flexible than other feeders.
This feeder will still be very useful if you're having feeding troubles with only one of your cats, such as one greedy cat that eats everyone else's food, or one cat that needs medicated food. In that case, your other pets can eat out of other non-selective pet feeders.
The bowl is made of stainless steel, and it's dishwasher safe, which is a real-time saver for cleaning it. The feeder can also be used with wet food, which is great. Just make sure to replace the food and clean the bowl regularly. The power cord is sold separately, or you can buy 3D batteries, which are not included. This product doesn't have that many features, but that also means it's not too complicated to use.
Pros:
This is a good solution for a single cat with special dietary needs in households with multiple cats.
The feeder can be used with wet food.
The bowl is dishwasher-safe.
Cons:
Only one tag comes with each bowl.
The power cord is sold separately.
Wireless Whiskers AutoDiet Pet Feeder
The next on the list isn't a microchip feeder but a collar-activated cat automatic feeder. It comes with two collar tags, but the feeder can be used with up to 8 pets. Both cats and dogs up to 18 inches tall can use this feeder.
This feeder offers some wonderful solutions for regulating and maintaining your cats' weight, especially in households with multiple pets. It will automatically measure how much your pets eat, recognizing them by their unique collar tags. You can put each of your pets on individual diets.
For example, when your overweight cat comes to eat, the feeder's door will automatically shut when that cat reaches its food allowance. If you have multiple pets registered to this feeder, this also ensures that each of them will get a fair share of food.
You can also choose to lock some pets out to keep your dogs from eating cat food. Or if you have a cat that eats too greedily, resulting in bloating and vomiting, you can divide the allowance into up to 24 meals throughout the day.
What I'm most impressed with is that this feeder will let you know if your cat eats less than 65% percent of its allowance. This is really important, because under-eating can be an early sign of illness. It really seems that this feeder can solve any feeding problem. It also comes with a power cord, which is a plus.
The biggest downside of this cat feeder is that your cat will have to be in a specific spot near the feeder for the collar tag to be recognized by the sensor. Another issue is that more determined cats can break into the feeder.
Pros:
It solves a wide range of feeding-related problems.
It comes with a power cord.
Cons:
Tag sensors could be improved.
Some cats will be able to break in.
Our Pets Smart Link Intelligent Pet Care Selective Feeder
OurPets also design this feeder, which looks very similar to their Wonder Bowl. The difference is that this feeder is part of their Intelligent Pet Care line, a line of smart feeders that allow you to manage and monitor your pets using Bluetooth technology and the OurPets Intelligent Pet Link smartphone app. Intelligent Pet Care products are designed to monitor key indicators of your pet's health. One of these indicators is food intake, which is where this selective feeder comes in.
The pet feeder comes with a unique SmartLink tag. The feeder uses Bluetooth technology to detect when the cat wearing the tag is near, and it will open only for that cat. The feeder also monitors and reports data such as feeding behavior, frequency and duration, as well as when the battery is low. If your cat shows unusual behavior, you will get a notification to your smartphone. Only one tag comes with the feeder, but if you want more pets to use it, you can purchase additional tags separately.
The bowl is stainless steel, removable, and dishwasher safe. The product uses 3 D-batteries, and the power adapter is sold separately. The sensors could be placed better, as your cat will have to stand at the right angle in front of the dish for the lid to open.
Pros:
It tracks and reports on your cat's health habits.
It's easy to clean.
Cons:
The sensors could be placed better.
The power adapter is sold separately.
Felines Only – the Purrrfect Cat Dish
The last feeder on my list is a bit different because it doesn't work by recognizing your cat's microchip or collar tag, but it's still a selective feeder. It's specifically designed by a vet to be used by cats only in order to prevent dogs from eating cat food. It has a plastic lid with holes that only cat heads can fit through. Even smaller dogs won't be able to get to the food, as they eat in a different position than cats.
The feeder is also really sturdy to prevent even the most determined dogs from getting in. So, although this feeder doesn't use any fancy technology, it still has a very smart design. Because it isn't technologically advanced, it's also very easy to use by anyone, which is great for pet owners who don't have the patience to set up automatic feeders. The feeder comes with twin bowls, so it can be used by multiple cats.
Because of the plastic lid, the food odor is kept to a minimum. It also prevents most spills and the familiar sight of kibble all over your floor. The feeder is easy to move, because of the external handle for easy carrying. It also includes rubber pads and double face tape or screws to make it attachable and stable, so your cats won't be able to drag it across the floor or tip it over. The bowls are dishwasher safe, which makes cleanup a breeze.
The obvious downside of this cat feeder is that the bowls aren't sealed, so you'll have to replace the food often or it will go bad. It also won't prevent cats stealing food from each other.
Pros:
It's easy to use and clean.
It's suited for multiple cats.
Cons:
The food needs to be replaced often.
Conclusion: Best Collar Activated (RFID MicroChip) Cat Feeder
I would recommend the SureFeed Microchip Pet Feeder as the best feeder because it allows you to register up to 32 pets and can be used with dry and wet food, making it very user-friendly. But, if you have a dog that loves stealing your cat's food, the solution might be the Felines Only – the Purrrfect Cat Dish. If you are satisfied with a simple gravity feeder, I suggest you read my post about automatic cat feeders, and you will find many models to choose from.