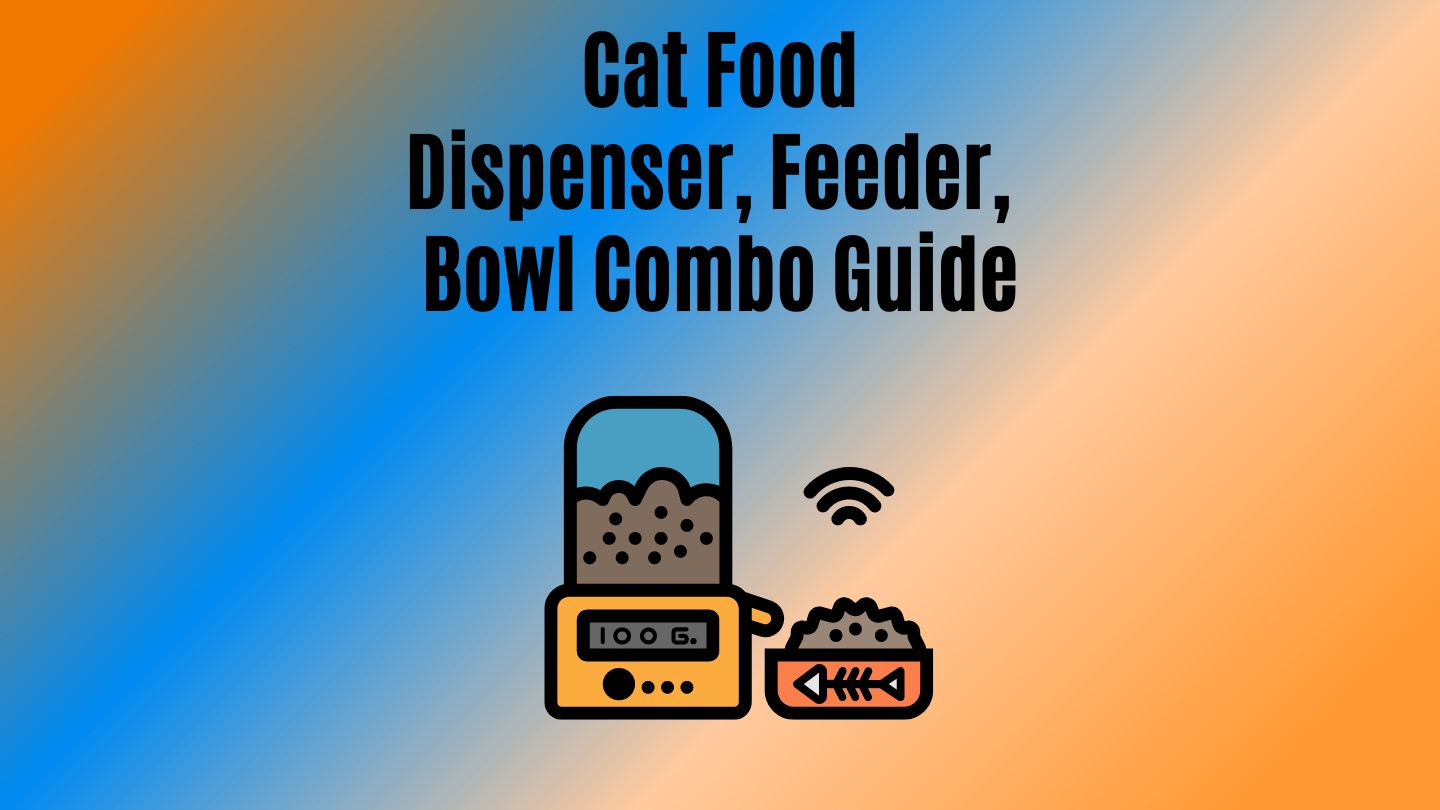 A cat feeder also called a cat food dispenser or cat feeding station can make your life so much easier. If you use a regular bowl for your cat your entire life, you might think that you don't need some fancy technology. How complicated can feeding cats be, anyway, right? You just need to buy some cute cat bowls and pour food in, as simple as that.
Well, that's definitely one way to do it, but it also causes a number of problematic situations that cat owners experience on a daily basis. Has your cat ever woken you up way too early by meowing for food? Or maybe you travel a lot, and you need to find a cat sitter every time, even if you're just going away for a day or two. Or maybe you just work long hours, and every day of the working week it's the same story of worrying if your cat is sadly meowing by its empty food bowl. An automatic cat feeder can help solve all of these problems and more.
In a Hurry? Here are Our Top Picks
There are two main types of automatic cat food dispenser models on the market: gravity feeders and electronic feeders. The gravity feeders share food with your cat using old-fashioned gravity whenever your cat comes to eat. Electronic feeders, on the other hand, use electronics and modern technology to dispense chosen amounts of food at scheduled times. Most often, an automatic feeder consists of a hopper, which is the container with the food, and a feeding tray.
Best Cat Feeder Reviews
There is a huge number of different cat feeder options on the market, designed to solve different cat feeding problems. Now, you don't have to be desperate and think that you will never find the product that will suit your cat perfectly! All you have to do is check out the most popular models and they are right below!
Petmate Pet Café Feeder
The first cat feeder on my list is this gravity feeder by Petmate. Gravity feeders offer a number of benefits that electronic feeders do not. First of all, they're really user-friendly. They're simple to set up and use. Secondly, they don't use electricity, so you don't have to fear that your cats will go hungry because of a power outage, or because of the batteries dying.
Also, if you have a cat that loves to chew on the cords, as many cats do, a gravity feeder will be a good choice. The downside of gravity feeders is that you can't use them to control your cat's portions, as the food will flow out whenever your cat comes to eat. So, if you have an overweight cat, or a cat with special feeding needs due to medical issues, a gravity feeder isn't the best choice.
This feeder comes in three sizes, to accommodate households with pets of all sizes or multiple pets. To load the food into the feeder, you just need to remove the easy-snap lid and then snap it back on. The hopper has a wide mouth, to make cleanup easier. It needs to be cleaned by hand, but the lid is dishwasher-safe. The entire feeder is made of pet-safe PET plastic.
Another good thing about this feeder is that it's quite stylish, and it comes in several pearlescent colours so that you can match it with your home decor. The downside is that some bigger kibble can get stuck and not flow down.
Pros:
It's fashionable and user-friendly.
Gravity design gives access to food at all times.
Cons:
It's not recommended for pets with special feeding requirements.
Some bigger kibble can get stuck.
AmazonBasics Self-Dispensing Gravity Pet Feeder and Waterer
The next on my list is another gravity feeder. This one is a bit special because it's actually a 2-in-1 product: it's both a portion of cat food and water dispenser. Cats need more water after they eat dry food, so this is a welcome addition.
The outdoor cat feeding station comes in two sizes: Small and Large. This makes it suitable for households with multiple cats, and for cats of all sizes and ages. The small feeder can hold up to 6 pounds of dry food, and the large is double its size. Both products are made of non-toxic plastic. The hopper and the water bowl have an extra wide mouth to make cleaning easier. Just remove the hopper and the water bottle and wash by hand with warm soapy water.
The product isn't dishwasher safe. Both the hopper and the water bottle are transparent, so you can easily see how much food and water there is. Another great thing is that bases have side cut-out handles to make lifting and moving the feeder and waterer easier. The bases also have rubber feet, to prevent the feeder and waterer from sliding across your floor.
The downside is that you have to be really careful when you're refilling the feeder, because the three separate pieces come apart too easily, and this could result in kibble being spilt all over your floor.
Pros:
It's a 2-in-1 product.
It's great for kittens and adult cats, as well as multiple cats.
Cons:
You need to be really careful when refilling the feeder.
Platinum Pets Modern Triple Feeder
Owning a 3-bowl cat feeder is interesting because it allows you to give your pet water, wet food and dry food. The variety is bigger and your pet will be healthier and more satisfied. But, the main problem with multiple bowl feeders is that they aren't automatic feeders. They are simple bowls on a stand, like this model. The good thing about this Platinum pets feeder is that you can choose the size and the color you want.
The stand on this elevated cat feeder is made of steel so you can expect durability. The powder-coated pet bowls that come with the stand have a special Rattle-Free rim which makes sure that the bowl doesn't touch the stand. That way the bowls don't produce any sound so your pet can eat in peace.
The best part about this 3-bowl cat feeder is the fact that it comes with an elevated design. This is good because your cat doesn't have to eat off the ground. That way the tension in the neck and other muscles is lower and it is a more comfortable position to eat. But, there is one problem with this elevated cat feeding station and that is connected to the bowls. Sometimes, the paint on the bowls will chip off.
Pros:
It comes with a raised design for comfortable eating.
You can combine wet, and dry food and water.
Cons:
The paint on the bowls can fall off.
ProsperDog Raised Pet Bowls
Another raised cat feeder is this one from ProsperDog, but their main difference is that this one comes with two bowls. These raised modern cat bowls will fit nicely in your home thanks to the black and white color combination.
The stand is made of wood so you know that water won't harm it. The legs of the cat food bowl stand have silicone which prevents your pet from moving the entire feeding station. The special ceramic cat bowl design prevents whiskers fatigue which is a very important feature.
The elevated ceramic cat food bowls are deep enough to take one meal for a cat or smaller dog. It is a great material because it is easy to maintain, but it might break. Also, the ceramic in the bowls is lead-free so you don't have to worry about your pet's health.
Pros:
Raised cat food bowls are great for cats.
Ceramic bowls are made with whiskers in mind.
Cons:
The ceramic bowls can break.
Catit Cat Senses 2.0 Multi Feeder – Food Tree
This cat puzzle feeder made by Catit will make sure that your cat will spend some time eating. It is a good choice for a cat slow feeder, but it is also a great choice to keep your cat stimulated and entertained.
The cat tree with the feeding station forces your cat to pull out dry food which stimulates their instincts and makes them work for food. That is good because your cat can't eat too fast and it keeps their mind entertained. You can set 3 levels of difficulty which means if you start at level 1, you can change the level when the cat figures out the system.
When it comes to humans, this cat feeding station is great because it is easy to set up, easy to clean and easy to maintain. Also, the entire product is made of BPA-Free materials so it is safe for your pet.
Pros:
Cat puzzle feeder with different difficulty levels.
Easy to clean and set up.
Cons:
Doesn't have a bowl.
Arf Pets Automatic Pet Food Dispenser for Dogs And Cats
The next feeder on my list is this programmable cat feeder by Arf Pets. It allows you to schedule up to 4 meal times, and each meal can range from 1 to 10 24 ml portions. To use it, just set the timer, choose the meal size, and schedule the desired feeding time. You're going to have to set it up fairly often, especially if you have multiple cats.
The lid locks to make sure your cat won't be able to get to the food before it's time. It's airtight, which means the food will stay fresh for longer, and it won't attract ants and pests so it has an ant-proof cat bowl. The pet feeder warns you when the food runs out, which is a really helpful addition for making sure you don't accidentally forget to refill it, and your poor cat goes hungry.
What makes this cat food dispenser special is the ability to record sounds for up to 10 seconds. This means that you can record yourself calling your cat to eat. You can record your own voice, so your cat always feels like you're there, or you can record some other sound your cat associates with meal time, such as the sound of food can opening.
Another great thing is that this multi-cat feeder comes with a power cord, but it can also be used with 3 D batteries which aren't part of the dry cat food dispenser, but you can always have them as a backup in the case of power outages, or your cat chewing on the cord.
Pros:
This cat feeding station comes with a power cable.
It allows you to record your voice.
Cons:
It has to be set up often.
PetSafe 5-Meal Automatic Dog and Cat Feeder
PetSafe 5-Meal Pet Feeder
This feeder is compact so you can carry it with you on a trip. But, the more interesting feature is the fact that it is a wet food cat feeder, which means you can put both wet food and dry food inside.
It consists of a round feeding tray that's divided into 5 triangular food slots. Each of these slots can hold up to one cup of food. To use the feeder, you have to fill the slots with food, set the timer, and the tray will rotate when it's feeding time.
The tray also has a lid that closes when it's not feeding time. It is a good idea to fill some slots with dry food, and others with wet food, to ensure your cat gets a balanced diet. Just make sure to clean the tray regularly, especially if you're going to be putting wet food inside. Thankfully, the tray is removable and dishwasher-safe.
Both parts of the feeder are made of pet-friendly, BPA-free plastic. The lid is quite sturdy, and cats won't be able to break in before it's feeding time. The feeder uses batteries, which aren't part of the package. It also doesn't come with power cable, so make sure to always have backup batteries nearby.
Pros:
It can be used with wet food.
The cleanup is quick and easy.
Cons:
It doesn't have a power adapter option.
PetSafe Healthy Pet Simply Feed Automatic Cat Feeder
This electronic cat feeder is a great option for cats who are starting to resemble Garfield just a tad too much. I know you want your cat to be well-fed and happy, but excessive weight can cause a number of health problems, just like in humans. It has a special slow feeder setting that prevents overeating.
This automatic feeder allows you to customize the portions (1/8 cups- 4 cups), so you know exactly how much food your cat has eaten each day. You can set up to 12 feeding times. If you wish to feed your cat outside the scheduled times for one reason or another, simply use the Immediate Feed Mode. The Slow Feed Mode disperses food to your cat slowly over a 15-minute cycle.
This prevents your cat from eating too fast, significantly lowering the risk of vomiting after a meal which is not a pretty picture. This feeder is also a great option for cats with medical issues, that need to eat smaller portions or eat more slowly.
The lid, hopper, bowl, and bowl holder are all dishwasher safe, which makes the cleanup super quick and simple. The entire construction is made of two materials, BPA-free plastic, and stainless steel, which is the best material for pet food bowls.
This unit? uses batteries which are, unfortunately, not included. It does have a power cord option, but it is sold separately, like the batteries.
Pros:
It's a great product for cats with medical or weight issues
The maintenance is simple.
Cons:
The cable and batteries are sold separately.
SureFeed Microchip Pet Feeder
The next feeder I want to share with you is the cat feeder with a collar sensor made by SureFeed. This collar-activated cat feeder is great for households with multiple cats when one of the cats has a special diet.
This electronic cat feeder works with microchips you can put on your cat's collar. When the programmed microchip is near the feeder, the RFID cat feeder will open. This is a great dog-proof cat feeding station for dogs who love to eat cat food because it will open only when the cat is near.
The microchip cat feeder can memorize up to 32 pets, which isn't necessary for most pet parents but maybe it is for you. The quality is great and the warranty on the cat feeder is 3 years.
Pros:
Great for cats with special diets.
Dog-proof cat feeder.
Cons:
A stubborn pet can open it.
Vivostore Smart Pet Feeder
If you love technology, then you will love this smart pet feeder because it comes with many features and in two different colours – black and white.
This Wifi cat feeder allows you to connect with it through your smartphone using an app. It is compatible with iOS and Android systems and the only requirement is that you have a 2.4 GHz router. You can enter your pet's information like the breed, age, and weight and the feeder will recommend you the daily portion of food.
Once you set the size of the portion and the feeding time, you don't have to worry about your pet being hungry. You will get a notification when the dry cat food dispenser releases the food and when you get home, you can easily wash the bowl of the wifi cat feeder because it is dishwasher safe.
Pros:
Connects to your smartphone so you can see when your pet is being fed.
Dishwasher-safe bowl
Cons:
Use only for dry food.
Conclusion: Best Cat Feeder Design
As you can see, there are many different cat feeders on the market and you can completely adjust the cat feeding station to your cat. You can pick cat food bowls, automatic cat bowls, or even wifi cat feeders. That means your cat will stay at home, happy and full and you can go to work without worries. The only thing I would definitely suggest is to get a slow cat feeder if your cat is too fluffy or eats too fast because that is a matter of health.