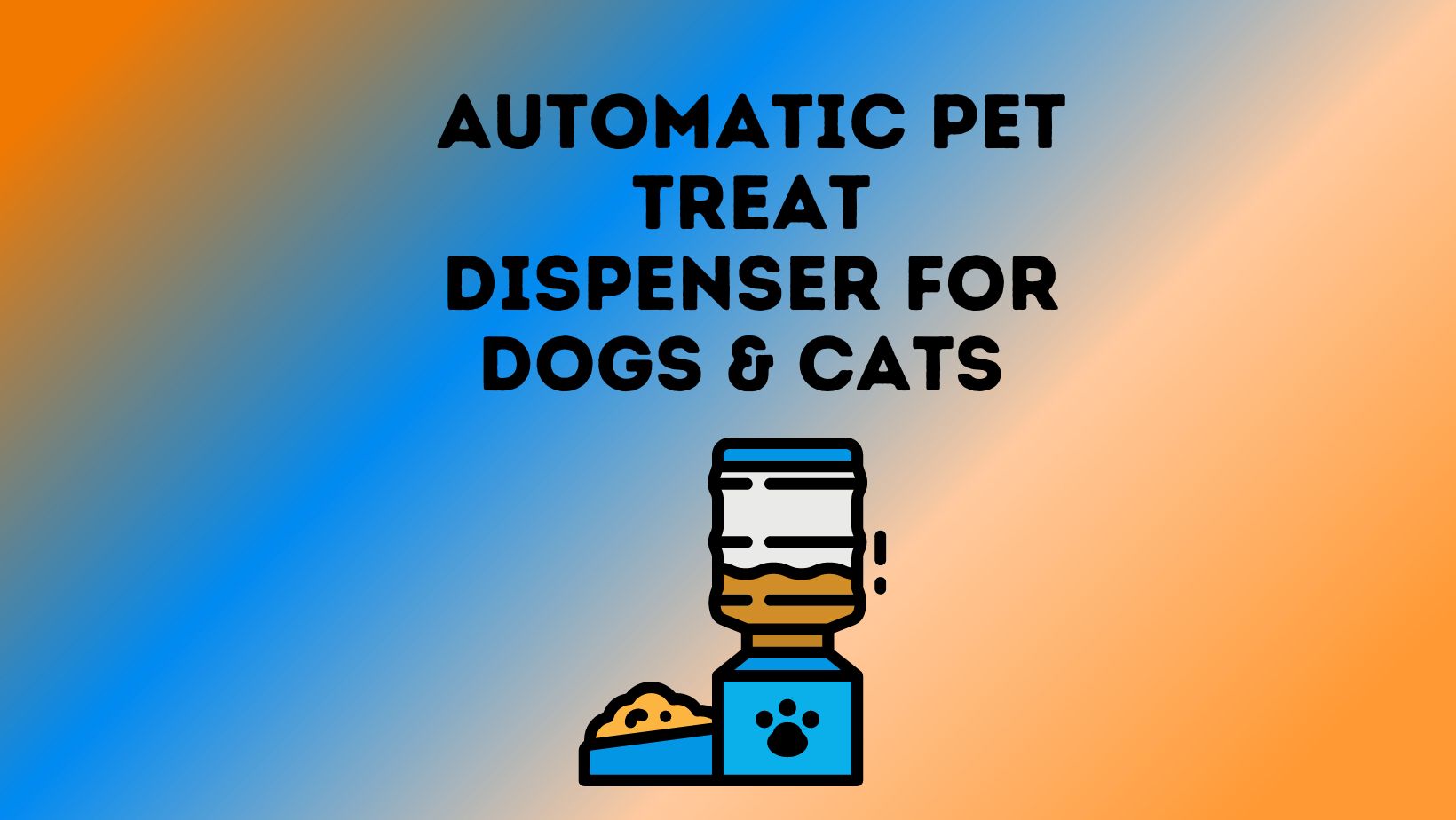 Looking for a way to treat your pet even if you aren't home? The automatic treat dispenser is the solution for you! Here in this article we introduce those types of products and bring you reviews of the top five products in the automatic pet feeder treat dispenser category.
What Is An Automatic Treat Dispenser?
It is always good to reward your pet if they have done something good as it will encourage them to do it again. But for many pet owners who don't spend a lot of time at home, it isn't possible.
That is why people have come up with treat dispensers that do such things automatically, even if you aren't at home. They usually work through the app you download on your smartphone. That way you can schedule treats or give them manually to your pet no matter where you are.
Additional Camera Feature
Treat dispensers usually come in a combination with a pet camera that allows you to see your pet. That way you know if they did something good and you can reward them for it.
The camera feature is also suitable as helps your pet to feel your presence and feel less lonely. Some have the part of two-way video chat, snapping photos and videos you can watch later.
Requirements For Such Product
When you buy the automatic treat dispenser you will need to make sure that your phone supports the app that it comes with. Also, you will usually need a 2.4GHz WiFi connection and a power source to keep your treat dispenser plugged in. Some are designed for dogs, some for cats, but most can be used for both. However, it is always good to check before you buy the product.
Most Popular Automatic Cat And Automatic Dog Treat Dispensers
Automatic Pet Treat Dispenser
Petzi Treat Cam: Wi-Fi Pet Camera And Treat Dispenser
The first automatic treat dispenser we are going to mention here is by the Petzi brand. It is actually a pet camera and treat dispenser that works with Wi-Fi. With this product, it will be super easy for you to see what your pet is doing and reward them with a treat if they did something well. One of the major benefits is that you can do it over your phone no matter where you are!
The app for this automatic pet treat dispenser can be downloaded for free on your Android or iPhone device. The app also allows you to speak to your pet and to snap a photo and immediately share it on your social media accounts. The speaker offers high-quality audio so your pet will feel like you are in the room with them.
Another benefit is the wide-angle camera that has a good night vision and will allow you to get the perfect view of your pet. You will also get the mounting kit that allows you to fit the camera almost anywhere in your home. You can use the treat launcher with almost any crunchy, small treat. The important thing to keep in mind is that it must not be bigger than a quarter or it might get stuck in the pet feeder.

Pros:
It comes with a camera and audio
You can mount it anywhere
Cons:
Releases treat on the floor, which can be messy
Only a certain size treats
---
Automatic Dog Treat Dispenser
Furbo Dog Camera: Treat Tossing
The automatic treat dispenser model is by the brand Furbo. This product was designed as an auto dog treat dispenser, mainly for smaller and medium-sized dogs. The product allows you to see what your pet is doing at all times and reward them for behaving well. It is a great addition for all the people that work a lot and can't spend a lot of time with their beloved pets.
The product comes with a free Furbo app that can be used for iOS and Android systems. One of the most unique features that come with this product is the ability to toss the treat to your pet. That way your pet can get their favorite treat while playing catch. The camera that comes with this dog treat automatic dispenser is a full HD one and has the night vision feature. You will be able to live stream a video and monitor your pet with a 160° wide-angle view. It also has the ability to zoom in 4 times.
You will get a notification on your phone when your dog is barking. That way you can use the app to talk to them and calm them down. The equipment you need to have is a USB cord to plug the product into a power outlet and a stable Wi-Fi connection. If your dog is facing the camera, you will get notifications on your phone, so you can take a few selfies of your pet. There is also a feature called doggie diary which allows you to see the highlights of your dog's day in 60 seconds time. You can download on your phone and save it as a memory with this smart feeder.

Pros:
Notifies you when the dog is barking
Has a Doggie Diary
Cons:
Mainly for smaller and medium-sized dogs
---
Automatic Pet Treat Dispenser For Puppies
ToomLight Pet Interactive Treat Launcher Toy
The next product we want to share with you form the automatic treat dispenser category is one by the brand ToomLight. It was designed to be used for puppies or any other playful pet. Since it works automatically, it is a great way to ensure your pet gets its treats, even if you aren't at home.
The way this product works is that your pet needs to put the ball in, after which the food will automatically come out. The best thing is that you will not need electricity for it, which means it can work at any time. One of the downsides is, however, that you aren't able to see your pet and what they are doing, like with the previously reviewed pet feeders.
The ball that it comes with is 6 cm in dimensions and made of elastic material. It can be used for pets of all ages, but as we mentioned puppies will like it the most. To make sure there are no bacteria and germs collecting on it, there is a removable disk on both sides. You can easily take it out and wash it with some warm water and soap.
Another benefit is that this automatic pet treat dispenser is not big, so it won't take up too much of the space. Since it doesn't use electricity you can use it both for indoors and outdoors, which isn't the case with most automatic treat dispensers. In the package, you will get the treat dispenser, one tennis bowl, one feeding spoon and two of detachable plates.
Pros:
Provides activity for your dog
Doesn't use electricity
Cons:
You can't connect it to your smartphone
---
Automatic Pet Treat Dispenser For Bigger Dogs
Petcube Bites Pet Camera with Treat Dispenser
Another product we want to mention in this article is the pet camera and treat dispenser by the brand PetCube. This is a very popular model that offers treats to your pet when you aren't around to give them yourself. All you will need is a 2.4GHz WiFi, iOS 9.3 and higher or Android 5.1 and higher.
There is an app that comes with this automatic pet treat dispenser that allows you to treat your dog from a distance or to schedule the time for treats. You can use it for dry or crunchy treats and it is suitable for cats and smaller dogs. The capacity it comes with is 2 lb and there is a pack of wellness dog treats already included. There is the ability to choose the number of treats you want your pet to have and prevent them from having too much. The app will notify you when the food levels are getting low, and it will automatically reorder them for you.
This auto cat feeder also comes with a WiFi pet cam that allows you to get a very clear 1080p HD video with a 138° wide-angle view, both at daytime and night time. You will also be able to get a close up of your pet with the 3x zoom feature. There is also the ability to get sound and motion alerts on your phone, to know if something is going on with your pet. You can connect the app with 6 cameras and see them all at the same time. That way you can see what your pet is up to no matter which room they are in.
Another great feature of this cat food dispenser is the two-way audio that allows you to speak to your pet. It also allows for them to hear you and to bark or meow back at you. That way your pet can feel your presence, no matter where you are. If you want you can also replay the last 4 hours and see what your pet has been doing. The videos can be freely stored on a cloud or downloaded directly on your phone.

Pros:
Suitable for cats and dogs
It comes with a camera and audio
Connect up to 6 cameras
Cons:
---
Automatic Cat Treat Dispenser
Parbo Life Pet Camera Treat Dispenser and Laser Game
The last automatic cat treat dispenser we want to share with you today is by Pawbo Life. It is a model that combines a pet camera. Treat dispenser and a laser game. It is super convenient for pet owners who work a lot but still, want to be involved in their pet's lives.
There is a Pawbo app suitable for iOS 6 models or above or Android 4 or higher. You can use it wherever there are 2.4GHz connectivity and router with WPA2-AES encryption. You will also get the 130-degree wide-angle lens with 720p HD and 4x digital zoom.
By using the two way-talk you will be able to video chat with your pets through your phone. You can also record a video which you can then store on your phone, and re-watch later. Due to the camera on this smart feeder, you will be able to snap a shot and immediately share them on your social media accounts if you want to.
One of the unique features of this model is the laser dot-chasing game which is great for pets who are exceptionally playful, especially cats. It also allows you to play and interact with your pet from a distance. You can set the laser game automatically, or you can do it manually.
You can also reward your pet for their good behavior with some treats using the treat dispenser. With this model, you will also get the 100~240v AC power adapter and a quick guide with all of the instructions on how to use it.
Conclusion:
The best automatic treat dispenser, in our opinion would be the Furbo dog camera and treat dispenser. The reason for that is the 160° wide-angle view camera with 4 x zoom that allows you to see your pet clearly.
Also, there are features such as the video diary and the notifications when your dog is barking, which is not something other treat dispensers have. If you know which treat dispenser you will get and now you want to check out automatic dog feeders or automatic cat feeders, check out my list of best automatic feeders!